Create with Canva Workshop - Calm Corner Printables
Regular price

$97.00

Sale price

$67.00
Looking to create and sell printables on Etsy within a niche that's popular but relatively untouched? Let me introduce you to Calm Corner Printables.
In this 'Create with Canva' Workshop I'll show you everything you need to know about creating beautiful Calm Corner Printables (within the education/children's printable niche).
Through three phases of learning, this workshop will teach you how to research, find graphics and fonts, upload your graphics, fonts and elements into your Canva account, create 4 unique calming printables using Canva and prepare them for printing and selling on Etsy.
You'll also learn how to use the mockup generator within Canva to create amazing Etsy listing images, and create a Printing Guide/ Thank You PDF document so that customers can get the most from their purchase.
Finally, the workshop provides comprehensive instructions on listing your product on Etsy.
By the end of this workshop, you'll have everything you need to start selling your own Calm Corner Printables on Etsy!
What You'll Receive

☆ Lifetime access to your workshop hosted on our course platform, Teachery where you'll learn:

☆ Phase 1
- Explanation of a calm corner
- Recommended method for researching calm corner printables
- Where to find graphics, fonts and other elements to use in your design


☆ Phase 2
- Upload your purchased fonts into Canva
- Organise your purchased graphics and clipart into Canva folders
- Create 4 x Calm Corner Printables
- Saving your final PDF files into a ZIP folder
- Create mockup images for your Etsy listing
- Prepare a Printing Guide/ Thank You PDF document to add to your listing


☆ Phase 3
- How to create a new listing for your printables
- How to add your Zip folder (printables) to your Etsy listing
Access Instructions

This workshop is hosted on our course platform, Teachery.

Once you checkout and your payment has been confirmed, you will receive a PDF document with instructions on how to access the workshop within Teachery.

If you have any problems accessing your purchase, please feel free to contact me at hello@aliciarafiei.com and I would be more than happy to help you out.
Important Information

This is a digital product. Nothing physical will ship.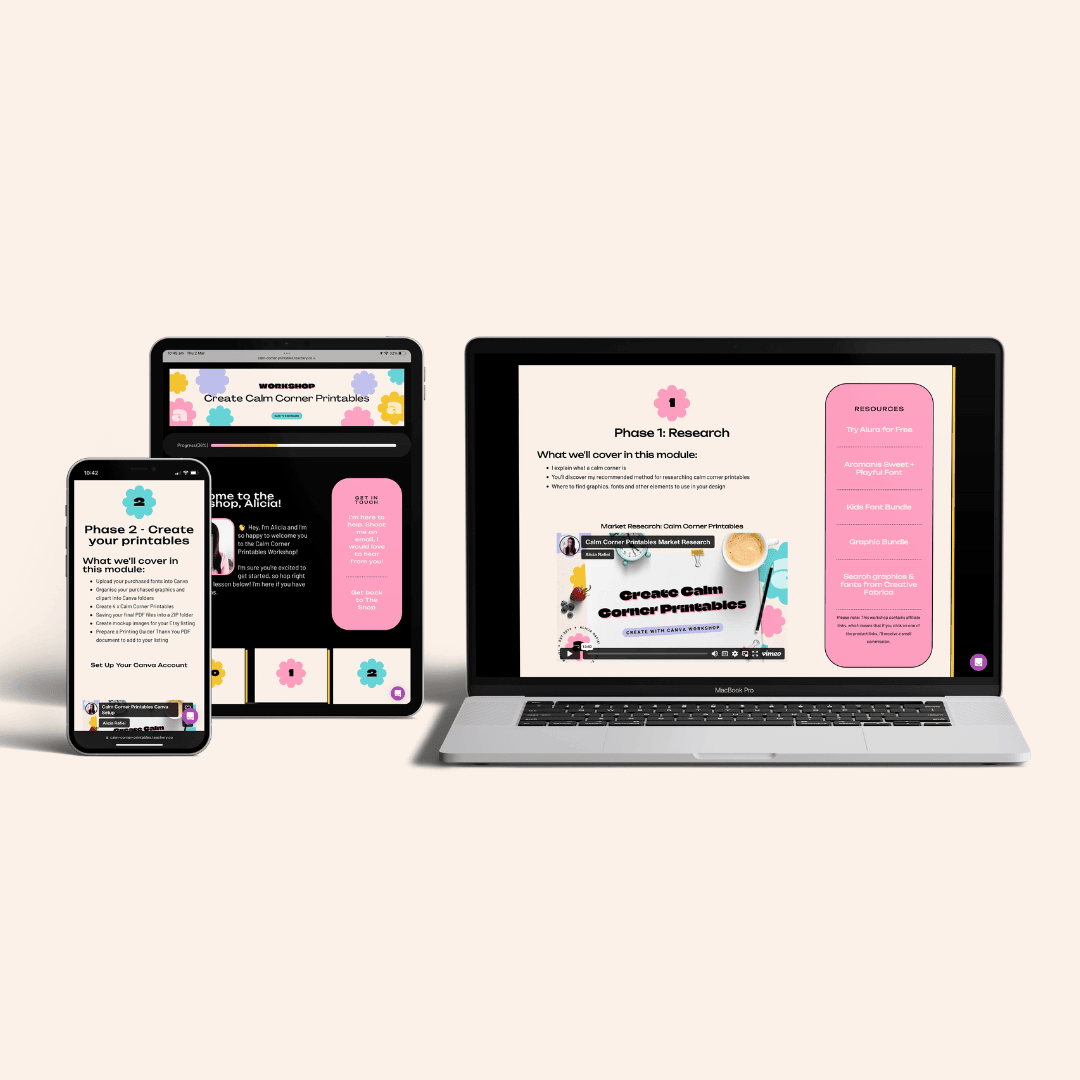 Incredibly fun, educational and valuable workshop
I thoroughly enjoyed attending this workshop. Alicia explains in several videos supported by clear images step by step how to make a printable. Everything that was new for me as a beginner was explained in detail and provided with extra attachments with templates, links or extra information.
At the end I had my printable ready and also the knowledge of how to upload it to my Etsy shop with product images such as mockups and descriptions.
Handy how the workshop is set up within the Teachery platform so you can go back to it again and again and go through it at your own pace. Thank you Alicia!